Richard Saul Wurman, founder, creator of TED is about to reinvent the conference experience all over again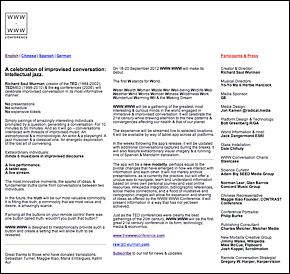 Warren Berger has done an excellent write-up on how Wurman aims to stage a series of improvisational one-to-one conversations, held in front of a small invitation-only audience and then disseminated via a high-quality app.
Ted replicates, what has become all too common in our field of business, that is to give speeches with help of powerpoint slides instead of engaging clients, partners and third parties in a conversation.
Here's what the new conference won't have:
speeches, slide shows, or tickets.
Why fix it if it ain't broken?
An overused question no longer applicable in this and so many other cases. Now that the web sheds light on our shortcomings relentlessly with all its cruelty, we all know we can and must do better.
In 2002, Wurman sold most of the TED (founded 1984) rights to Chris Anderson's Sapling Foundation and is no longer affiliated with TED.
Early support was granted by R/GA's Bob Greenberg und @radical.media's Jon Kamen. I have caught some glimps on R/GA's development in the late 80s and am glad to now be witnessing a new development which will have positive and strong influence on the dynamics of today's business practices.
Wurman's influence on the development and spread of emerging technologies is vastly underrated. Politics and businesses can learn a big deal even now at this early stage from Wurman's systematic approach to changing the dynamics.
Learn more over here from CoDesign's brilliant article by Warren Berger .
More on TED here, find the www.www conference site here. You can sign up for news on the topic here.
Bob Greenberg
CoDesign
conference
Entertainment und Design
FastCompany
founder
Jon Kamen
radical media
RG/A
Richard Saul Wurman
slideshows
speeches
technology
TED
tickets
Warren Berger
www.www