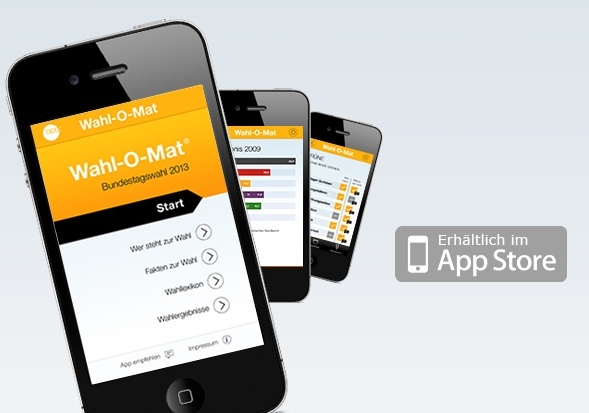 Since the 2010 Election of the federal parliament in North Rhine-Westphalia the Wahl-O-Mat was optimized for smartphones und tablets and is available at the
App Store
.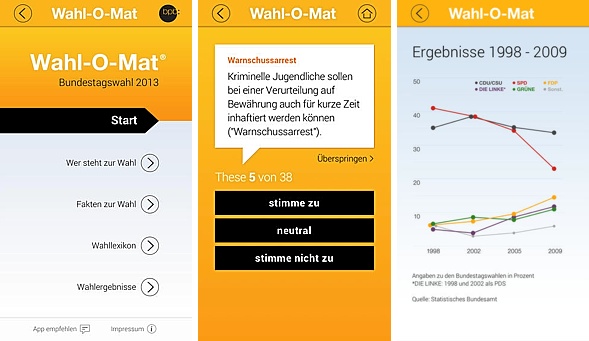 [column width="32%" padding="1%"]


Opening screen without the otherwise common traitorous explanations (indicating failure).
[/column]
[column width="32%" padding="1%"]

36 questions to agree to or don't or have no opinion for.
[/column]
[column width="32%" padding="1%"]

Within the few minutes it takes to answer you receive the name of the political party which best matches your viewpoints and opinions based on facts instead of on sympathies.
[/column][end_columns]
Read Elect-O-Mat since Wahl-O-Mat sounds like Wallmart to your ears.
With less then four weeks into the hot phase of the German and Bavarian elections, the Wahl-O-Mat was released on Friday by the BPB, the federal agency for political education. Surprising best practice for the German Design Nation otherwise falling behind in digital design.
Great error-free usability supported by straight-forward communication paired with high and dry design. The 1.0 release of the Wahl-O-Mat went public for the federal election in 2002, 6.7 million users had made use of it during the elections in 2009, 24 million users since.
Wahl-O-Mat has its origins in the Netherlands. The "StemWijzer" by the Instituut voor Publiek en Politiek/IPP published a paper version as early as 1989. Since 1998 it was made available online and became a commodity in the Netherland's elections ever since. The federal agency for political education (BPB) received its license for leveraging the "StemWijzer" in 2002 for the German elections.
In command of the German language you can try it here.
"StemWijzer"
@FastCoDesign @brucenussbaum
#AngelaMerkel
#btw13
#merkel2013
best practice
Elect-O-Mat
German federal agency for political education (BPB)
idea that does
Instituut voor Publiek en Politiek/IPP
Wahl-O-Mat