Elizabeth Blue March Show
at WOW Hall, Eugene, Oregon
WOW Hall, Eugene, Oregon.
With Callum helping his mother set up her March show
WOW Hall
Elizabeth Blue is an illustrator and comics artist living and working in Eugene, Oregon. She studied art and illustration in Great Britain from 2004-2011, in which time she earned a BA Honors Degree in Illustration from ECA in Edinburgh, Scotland and then an MA in Illustration: Authorial Practice from UCF in Falmouth, Cornwall.
Elizabeth Blue's personal work is driven by the feminine experience, myth, mortality and in this case especially, the archetype of the wild woman.
See more work at www.elizabethblueillustrations.com and on Instagram @feather.death.crown.[maxbutton id="132″]
---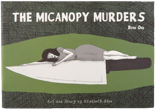 £9.99 The Micanopy Murders: Book One by Elizabeth Blue, published by Atlantic Press and autographed by the artist..
Atlantic Press
Eugene
Micanopy Murders
Oregon
WOW Hall