Think big, act incrementally
Gina Bianchini, founder and CEO of Ning obviously knows her way around social networks. Early birds can now take her Mightybell for a spin and explore if what everyone is saying, is ringing true for them.
What is Mightybell?
Mightybell is social software, available as mobile app and and web platform.
You benfit from more dedicated exchange of experiences, one step at a time.

Mightybell allows for a single sided approach while you benefit from the virtual company of many.

[column width="47%" padding="3%"]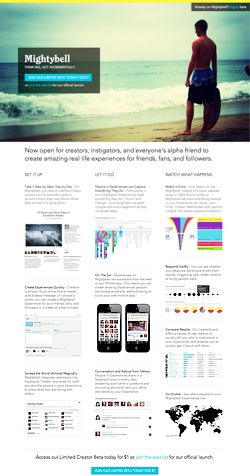 [/column]
[column width="47%" padding="3%"]
Thus early, the use of Mightybell varies greatly. A guide on '10 Vacation Rules to Save Your Life' currently begins with an instruction to block out three vacations in the next year; subsequent steps include defining what exactly you want to do on your vacation and picking three ideal travel companions. Other guides include 'Feel Like A New Yorker in San Francisco' and 'How To Pack Your Bike Like A Team Garmin-Cervelo Pro Mechanic'.
Mightybell feels very polished and free of clutter, you are being guided through ever step along the way of your experience with what it takes to complete the step. At the bottom of the screen you see who else is getting their hands dirty with a similar experience and you can choose to become a supporter.
Polished analytics tools help with your orientation.
Find FastCompany's list of women led start-ups here.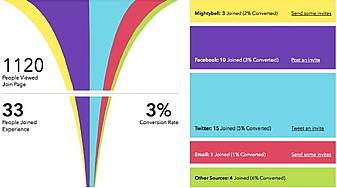 An indicator, that Mightybell let's you openly collaborate with popular social networks:
[end_columns]
bellstrike
CEO
Cindy Gallop
dedicated experience exchagne
Gareth Kay
Gina Bianchini
Mightybell
Ning founder
social software
start ups
think big act incrementally
think small
whom the bell tolls