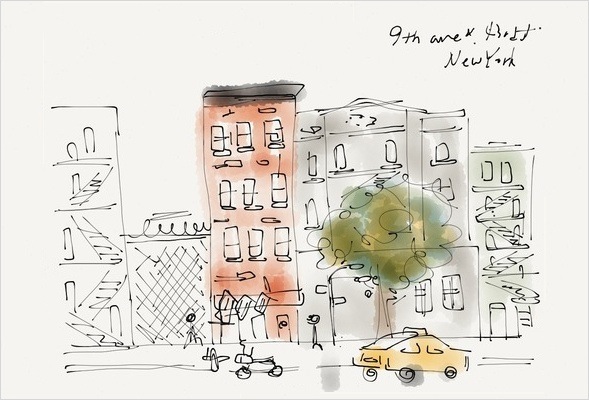 Images created with iPad app, Paper by Daouna Jeong(
@oura
)
Illustratror's choose their tools wisely, whatever they feel most comfortable with and what serves them best with their aim.
Don't omit the obvious though, technology aided tools may help with efficiency and now that the world goes mad about all tech, technology helps you getting noticed.
All eyes on context, your content lives and relates to the context its in. Listen hard to what the context is whispering in your ear.
All known illustrators seem to have known this at all times and they were never shy in using whatever is needed to help with increasing their work's popularity. Be it associating yourself with your location, seasonal relevance or whatever seems to work at all times (think of Tomi Ungerer and Sex and obscenities come to mind).
Paper for the iPad by FiftyThree is great for sharing your work even during the process of creation.
Playful series of NYC observations #MadeWithPaper by @oura. http://t.co/yXkeng7RzO

— FiftyThree (@FiftyThree) July 24, 2013
@oura
#MadeWithPaper
All eyes on context
Daouna Jeong
FiftyThree
Images created with iPad app
Life around me
NYC observations
Paper by Daouna Jeong(@oura)
UID
UX
WOM