[column width="47%" padding="3%"]
Today the entrepreneur can resort to better means and technologies to launch their product than ever before. A little noticed circumstance comes into play and to the aid of the entrepreneur entering the market with their product, when needed and only then.
All I have to do as an entrepreneur in the beginning is to reach a healthy understanding and defined rational of my brand and my product and its identity. How exactly does my brand and product make life easier on the consumer?
This should be easy on the entrepreneur as she knows her customers. Her infallible instincts have long identified what is of good use out on the market. For her executing aid a daunting task in mid management. He has lost the battle, the moment a task was delegated to him by a superior. Unable to interpret responsibility, pressure won't build up from within but is placed on him as though a burdon placed on him from the outside. Poor soul.
No wonder, that by 2011 the entire communciations industry has come to accept that for the consumer as well, the pressure must come from within. That is is best to leave discovery, desire and recommendation up to the consumer when we as a communications industry want to take brand building and promoting products into the post-digital world
[/column]
Today we have reached an awesome understanding that Self actualisation, personal growth and fulfilment is the driving motivation and tops motivation pyramid introduced by Abraham Maslow in 1934 for good reason.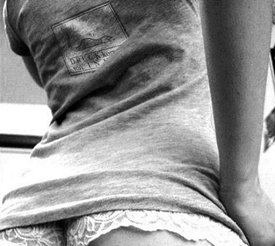 pressure from within T
selecting the image may have its rewards

It is the dominant human motivation and serves as driving survival strategy built into the DNA of human nature. Advertising- and marketing practitioners must now concentrate and build their business around how to make discoveries discoverable to the consumer. All organisation- and structuring fuzz is for the dumpster. All the arrogant management airs and graces are misaligned and a waste of time. What is needed is an expert nose for a good story to tell.
A good story knows many storyteller.

Find more about a little noticed circumstance that comes into play and to the aid of the entrepreneur entering the market, whenever needed and only then, here on Friday.
[end_columns]
¹In 1934 Abraham Maslow wrote a paper called A Theory of Human Motivation. Maslow codified his research on the five essential human needs in his his now famous Hierarchy of Needs (much be-loved by Planners the world over) The basic most fundamental human need that lies at the foundation of all of us he argued is Physiological (breathing, sleep, food, sex etc), then Safety (personal, financial, health), next Social (friendship, intimacy, family), then Esteem (self-esteem, self-respect, belonging) and finally at the top of the hierarchy came Self-Actualization.
Find Maslov's motivations pyramide here:
a good story knows many storytellers
Abraham Maslow
all in all
Amelia Torode
Bionic Marketing
branding
Discoverer
discovery
Dynamically not planning
holistic
holistically not homgenous
human motivation
integrated
intgral
join or die
Mark Sargent
Markenführung
market launch
Marketing 2011
New Advertising 2011
Patrick Moberg
pressure from within