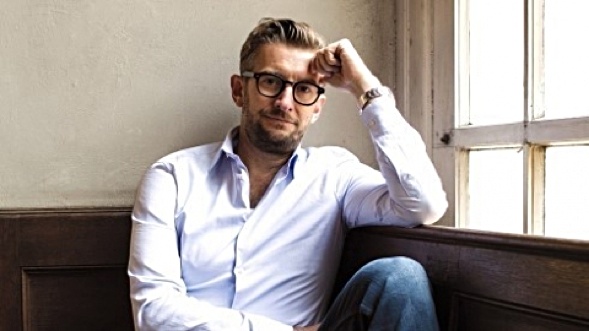 Matthias von Bechtolsheim.
Source
Matthias von Bechtolsheim is the CEO of Heimat, the Berlin ad agency, that was named the most creative agency by competing agency Jung Von Matt. With their work, Heimat has long been demonstrating a better understanding of social change than have all social media experts combined.
Coincidence or not, with the sold out branded hammer for their Hornbach client, Becholsheim now has broken the silence and is beating up online.
What was not long ago referred to as German service desert, in my observation has transformed to online. Bechtolsheim's thesis explained with a fist full of buzzwords:
Shitstorms and "dialogs on eye level":
Face the shitstorm he concludes, with little respect for hesitant marketers who shy away from stepping up to the consumer self-assured. A dialog on eye level all too often translates to brown nosing the consumer.
Modern consumers:
It's a myth that consumers want to permanently dominate and have a say. In the contrary the consumer is grateful when decisions are being made for her. The angry consumer is more of a fashion statement than a mass phenomena.
Targeting:
Retargeting, conversion rate optimisation or performance marketing are in one category with stalking and black mailing. It's like repo happening with your car. Feels like eco crime.
Worship of big data:
A desire that runs deep for predictability and governance of advertisements. With the consequence that scatterbrains increasingly come running to the it department to have it show them how to gain customers with algorithms. The acne plagued nerd is god.
Efficient marketing:
It's about values, standing and general viewpoitns a brand has and their philosophy and postioning. If you are in command of these higher meanings you have a far more powerful lever to pull than through search engine marketing or targeting. Buying contacts is banal.
Heimat accounts are served best with integrated communication and communication does not recognise the difference of analog and digital. The tendencies to encounter creativity and technology as contradicting each other is counter productive for agency clients.
George Lois
German master agency
Heimat
Heimat beats up online
Hornbach hammer
Lee Clow
Matthias von Bechtolsheim