The small obscure, European
microwagon is back
In movie classics, you see Europe's streets dominated by mopeds, funny small trucks, ladder coaches, scooters, and pedestrians as we would need them in the meanwhile, in an environmentally friendly version.
Not BMW nor Volkswagen, but a father-son three's company steps in to bring back the European microwagon.
The Microlino.
A story not without drama, but thanks to enthusiasm and improvisational art the Microlino is now in series.
This year, series production starts at the company Tazzari, near the city of Bologna in Italy. Of the 6,500 reservations the famiiy exprects to ship at least 60 percent.
The 1957 BMW Isetta 300 – smart family car pic.twitter.com/OMvqdGGeAB

— Sport & Casino History (@CDCHistory) January 24, 2018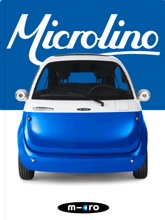 [maxbutton id="309″][maxbutton id="308″]
Europe's small car legacy
Microlino
Tazzari