For around £900 a classic fashion accessory for inner-city trafficking is available with no carbon footprint
Pininfarina has long brought the legendary Solex 3800 into our new world, which has always been a fashion statement, as much or perhaps even more so, than as a means for transportation.
A bike with a motor not deserving to be called a motorbike.
It's use however deserves to be called motorbiking more than any other EV can claim for itself.
"Elegance is refusal"
"Elegance is refusal" was coined by Coco Chanel and I remember how Chanel costumes, as may be the case with many utterly inventive designs, had me doubt the designers sense of taste at first.
I have finally become much quicker this decade with its steady stream of information flow, in adapting new ideas and designs.
The eSolex is elegant.
More frequent exposure to urban areas would likely contribute to a more sportive elegant lifestyle.
Get the tech specs in PDF format here.
For more information go here (Montreal, Québec, Canada).
And here (official website).
Via Motorevue.

[column width="32%" padding="2%"]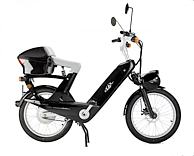 eSolex 2.0
Photo via motorevue.com
[/column]
[column width="32%" padding="2%"]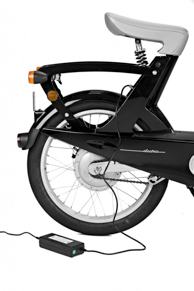 [/column]
[column width="32%" padding="0%"]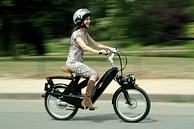 Andrea Pininfarina
LEFT: Reach approx. 50km per battery load. Battery weighs only 5kg, intended to be carried along.
[/column][end_columns]
"Elegance is refusal"
Chantal Carpentier
Cible Group
Coco Chanel
e-Solex
electric vehicle
eSolex
EV
moped
motorbike
motorbiking
no carbon footprint
Noise reduced transportation
Solex
urban mobility