You wish to always stay at the surface, to not drown in muddy waters of a deep well. Aware that deep thoughts make too many lives miserable?
You wish to to live the life of care-free heirs and enjoy life on the sunny side, making you repellant to deeper meaning?
Be carried- even tossed through life like a flat stone cast amongst the water surface? Have no fear of brain injury as so many athletes have to be aware of?.
You want to hold a job at age 85 as does the pope in Rome?
Manga blood to quench your thirst
After two decades of a complete lack of interest in what art had to offer, I soon lost my appetite in living a corporate life. Living a corporate life was my marshall plan, living a good life in advertising. Alas advertising had lost its punch much like art.
Art had closed down even more obvious than the economy or politics, or should I say turned off, detached or disconnected from public discourse?
©Murakami
Jerry Saltz explains the discovery of Takashi Murakami within the context of art legacy, by means of the Andy Warhol myth. Overrated as any myth waiting to get demystified. Myths that have little in common with our lives and our economy.
Takashi Murakami lacks a perception of boundaries (between art and commerce). He takes on what is being valued by businesses as an holistic viewpoint.
Murakami goes to work with a broad, integrated perspective, necessary to attain the best solution. Something Murakami may have retained from being a child.
This is how eye candy is created.
Feel encouraged to take it a step further over at Ana Andjelic's entry "the evolution of cute".

[column width="25%" padding="5%"]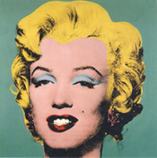 Andy Warhol
[/column]
[column width="32%" padding="5%"]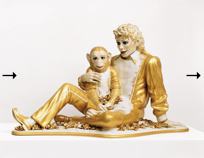 Jeff Koons
[/column]
[column width="32%" padding="5″]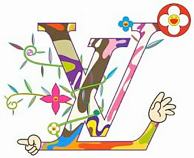 Takashi Murakami
[/column][end_columns]
Takashi Murakami's principles of success
The Weekend magazine of German paper, the Süddeutsche Zeitung from April 15, No. 15 offers a chart, making the success factors graspable at first sight.
(c)Murakami is as much an accident happening as are global business successes.
It took ten years of Murakami's time to become the world's best investment in art.
Google, Pinterest and tumblr are all accidents happening. Alle three took less time to develop albeit greater momentum. .
In his brilliant video, Ben Lewis introduces Magna Blood by young artist fellowship, Masashi Okamoto.
Murakami steals like an artist from the aesthetics of today's world culture awaiting its discoverers and further explorers.
What's with Murakami's supposedly dark vision?
The dark vision part aims to give the art industries expectations some food for thought. Something the high brow feuilletonist is not afraid but proud to share with the art world.
When a museum curator sees cotton candy she also sees tooth decay.
Murakami recognizes patterns and turns them around in an instance. A well tempered talent not ever hesitent at making instant best use of what is obvious. His twitter account is @Takashipom_En. Cabin porn, food porn… you get the idea.
Iconography. Emoticons. Pictograms… Symbols available to everyone through the system fonts of their computers: ❉❖✽●❀ 😉.
There is an inability to draw a line between term worlds. Whilst demonstrating a steady hand with categories, catch phrases and key words. It won't keep him from finding a matching lid for every pot though.
Prompt collaboration with proven brands such as Louis Vuitton as well as rising brands such as Kanye West.
The underrated presence of digital athletes and their worlds play a big part in the overbearing joy for what is obvious these days.
New York's art collector Adam Lindemann's kids stand in line to sleep over at a friend's kids room covered with Murakami tapestry.
(c)Murakami
©Murakami
Adam Lindemann
Ana Andjelic
Ben Lewis
branding
Copyright Murakami
design
digital athletes
escapist friend
Eva Karcher
for my adored
infantile
James Bridle
Jerry Saltz
Joseph Aloisius Ratzinger
Kanye West
Louis Vuitton
Masashi Okamoto
NA
New Aesthetic
Pope Benedikt XVI
Superflat
Takashi Murakami
ut99