It is on you to lend support to
American Apparel with your buying power and a little strategic consumption.
[column width="32%" padding="3%"]

On Munich's Amalien steet 44 and Schelling street 11 the American Apparel stores have closed, Petra says. Go to Sendlinger street. On Sendlinger street 24 you can buy American Apparel.
Since last year American Apparel has been teetering on the edge of bankruptcy. Despite the common wisdom of sex that sells and American Apparel having made plenty of use of that wisdom. For American Apparel to escape pending bankruptcy, continuous fincanciel growth must be demonstrated until september 2013.
Founder and CEO Dov Charney sees nothing wrong with the controversal identity of his brand. He insists, 'we'll continue to give the core audience what they want, a real, untampered with view of the creative process at American Apparel'.



[/column]
[column width="32%" padding="3%"]
Back in March 2007, Christina Waechter succeeded with a pro and con write up of the controversies surrounding AA's marketing, a rather insightful and objective confrontation over the drama of sex in advertising, leaving the decision up to the reader. In command of the German language, read the article here.
It's give and take… A Canadian immigrant, Dov Charney enabled 4,500 work places in downtown LA with an average pay of $12. He exports his Hipster fashion made in USA to sweatshop paradise China.
Much like Trigema-CEO Wolfgang Grupp, who is popular in Germany for keeping workplaces in the country instead of outsourcing to countries with lower wages.
In contrast to Wolfgang Grupp, Dov Charney has also adopted an idea from Hustler founder Larry Flint, that of letting the people get what they wish- and pay for. Larry Flint convinced the larger part of his potential readers, of competitor Playboy to cheat on people with glossy, photoshop retouched, softblured pictures, which would never reveal the most vital detail of femality. From researching the Venecian Giacomo Casanova for a previous assignment, I happen to know, that at an appropriate instant, Gicomo would first gently move his mistresses leg aside for proof of beauty.
There is plenty to learn from crm & marketing masters the likes of Giacomo Casanova, Dov Charney and Derek Sivers.
[/column]
It is the expression of style and cultural good of our post-digital era, which American Apparel incessantly produces like no other brand. By which the brand not only keeps busy with internal affairs and their making a profit but exists in permanent arguing with what keeps all involved and their surroundings occupied.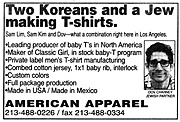 Early insert: *Two Koreans and a Jew making T-shirts*
American Apparel employs more than 10 thousand employees worldwide with its vertically integrated business model which minimizes the use of sub-contractors

and offshore labor.
Knitting, dyeing, sewing, photography, marketing distribution and design all happen in their Los Angles facilities. Terry Richardson is a photographer for American Apparel, most of the ads however are photographed by Dov or any of his co workers. American Apparel sports the most socially enabled and engaged brand website I ever came across with a plentytude of bloggers directly engaged and enabled in a feature section called Best of Seen and Submitted Raz Schionning being the web director.
Criticism: Dov Charney had been accused of sexual harrassment by more than one female coworker. During an interview he masturbated in the presence of one reporter and he has appeared in his underwear for many such interviews.
[end_columns]
Should this ad have been banned by the Advertising Standards Authority in the UK? twitter.com/americanappare…

— American Apparel (@americanapparel) April 10, 2013
[ssba_hide]
American Apparel
american apparel tree climbing ad
Christina Waechter
Derek Sivers
Dov Charney
Dov Charney Quotes
Elita Wiegand
Giacomo Casanova
hipster
hipster porn goddess
Jim Straub
Josh Dean
Larry Flint
Mark Sargent
photgraphy
Raz Schionning
Sasha Grey
Sex in advertising
sociable brand website
sweatshop free
Terry Richardson
Trigema
Vertical Integration
vertically integration
Wolfgang Grupp