A chair gets blown away. Not the audience.
[column width="32%" padding="3%"]

With Oomph for the launch of the Audi A1, Sam Brown demonstrates his experience with music videos for Adele, Foo Fighters or Jay-Z. The A1 is no Adele and the tv spot fails to bring back the magic.

[/column]
[column width="32%" padding="3%"]
Distribute the costs for airing tv with a good number of well targeted print ads and the thinking of a big idea condensed, may come to enjoy the support of a more fitting medium. Create a renaissance for print and create a new audience along the way, as Lady Gaga does. A lot of good stuff, squeezed into a small package. The ads were designed and Illustrated in-house at BBH by Mark Reddy and Rich Kennedy while the campaign was conceived by creative team Alex Grieve and Adrian Rossi. Creative directors: Kevin Stark and Nick Kidney.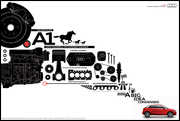 [/column]
Nothing new in automobile marketing. Neither Audi nor Bartle, Bogle or Hagerty had much of an idea or sensitivity for the lifes and concerns of prospektive consumers. The big mistake of the entire automobile industry got repeated, that of each auto brand wanting to occupy every market segment much to the dismay and disadvantage of consumers, the environment and society as a whole.
The good news? Shareholders are overjoyed with VW writing the best numbers of all time. Top Gear comes to Germany. Unfortunately in German.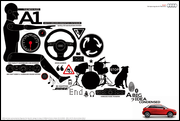 [end_columns]
Adrian Rossi
Alex Grieve
Audi A1
automobile marketing
Bartle Bogle Hagerty London
BBH
Kevin Star
Mark Reddy
Nick Kidney
Oomph
renaissance for print
Rich Kennedy
Sam Brown
top gear